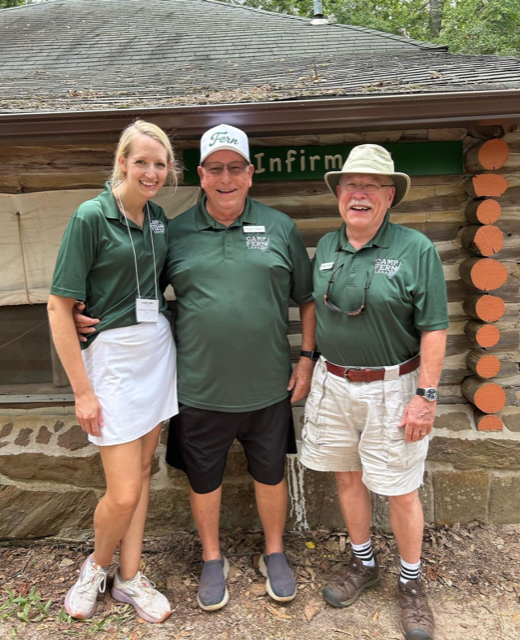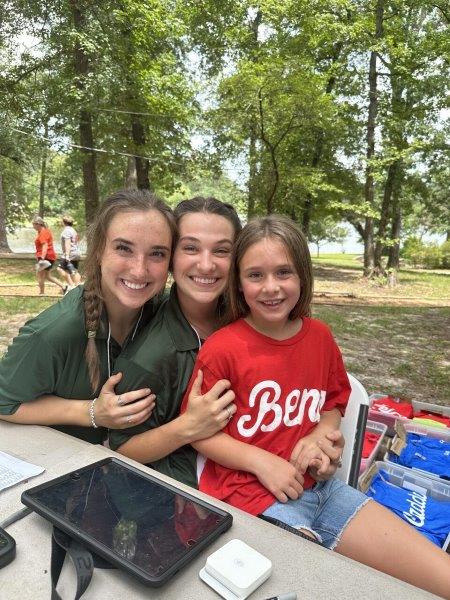 Camp Fern Legacy is acutely focused on your camper's health and safety. Some activities are more rigorous than others and we strive to keep your child safe at such times with close observation and maintenance of good hydration.  Illnesses and accidents do happen in a summer camp setting, but you should know that we can take care of your camper.  
We put a lot of time and energy into training our camp personnel and medical staff, and our goal is to provide the highest level of care possible.  
As a parent we hope you will take comfort in knowing that our onsite medical staff is supported by two board certified pediatricians, each with over 40 years of experience. Together, we can answer any questions that arise if you should have them. Contact us at (903) 742-4321 anytime. 
How do I let you know about my camper's medical needs?
The most important place to communicate your camper's medical needs is through our comprehensive online health forms. These forms are available to you via our CampInTouch webpage after your camper is registered for the summer. It is extremely important that you communicate to us every ongoing or chronic medical issue your camper might have in order that we can be sure that Camp Fern Legacy is properly equipped to care for your camper, and also that we are aware of any medications or treatments that might be required while they are with us.
Just as with certain physical conditions, if your child has been diagnosed with any behavioral or psychological/psychiatric condition, please share that with us and your opinion about whether this would affect their experience at camp. To best serve you and your camper, we must know about any such physical or behavioral condition and any medications or other therapies he or she has required.
All medical forms are reviewed by our medical staff to ensure that we have the proper and complete health information we need with which to render a decision on the appropriateness of Camp Fern Legacy for your prospective camper.
Where will you keep my camper's meds?
All medications are recorded in the medical record prior to opening day of camp and then stored in the infirmary under lock and key for dispensing by the nursing staff. This applies not just to campers, but also to our staff. Please note that on arrival to Camp, all medications must be in their original labeled container. It must include the dose and frequency of the medication. NO tabs or capsules can be altered in any way by staff.
Exceptions are made for rescue inhalers and Epi-pens/Auvi-Q devices. Just be sure that these medications and equipment/supplies are noted in the medical record prior to arrival at camp.
What meds should my camper bring?
For the safety of your camper and others ALL medications MUST be turned in on arrival to the infirmary staff. Please leave all non-prescription medications, vitamins, and/or supplements, other than allergy medication at home. Pack all of your camper's allergy medications and turn them over to the infirmary staff when you arrive. See a list of OTC medications we provide below. If you still have questions, don't hesitate to reach out to our medical staff.
Any alternative/complementary or OTC medications, other than allergy medications and/or an Epi-Pen, Epi-Pen Jr, or Auvi-Q device, must be accompanied by a note from your child's physician stating the medical need for such treatments. We will not give Melatonin to campers without a written note or prescription provided by their physician.
We are well stocked with OTC medications your camper might need while they are here. There is a list below & within the health form.
When are meds given out?
Medication is given out before meals and after chocolate milk at night. Make sure to communicate with your camper when they should expect to be taking meds, so they're aware of their schedule. The nurse is available throughout the day for unexpected ailments.
How should I pack my camper's meds?
On arrival to Camp, all medications must be in their original labeled container. It must include the dose and frequency of the medication. NO tabs or capsules can be altered in any way by staff. State regulations require all medication to be in their original containers or your mail order fulfillment packaging so we cannot make exceptions.
Download Camper Medication Form to include when packing medications to give to the nurse.
Any prohibited medications?
Speaking of state regulations, we also cannot administer prescription meds that are:
– Expired. All medication must be within its expiration date.
– Meds prescribed to other people. Medication must be prescribed to the camper only and not to other family members. If dispensing instructions have changed, please ensure the label is updated by the pharmacy.
– Compounded or mixed at home. We can administer medicines that have been compounded or mixed by a pharmacy, but we cannot administer medicines that have been mixed or compounded together at home nor will our medical staff compound or mix meds. If you need this, work with your pharmacy ahead of time to bring a pharmacy mixed medicine with you.
– Broken in half. We cannot administer medicines that are cut or broken into smaller doses than prescribed.
Regulations require us to follow the directions on all medicines unless we have a note from a physician authorizing something different. So, if a bottle says it is for adult use only and it is checked in for a younger child, we cannot administer it.
What about essential oils or vitamins?
Because of the large number of medicines tracked and given out daily, we do not administer essential oils or vitamins to campers.
What about CBD oil?
Similar to essential oils, we do not administer CBD oil to campers, and we ask that you do not pack it in your camper's luggage.
What about melatonin?
You can send it, but two important things to note: Your camper will be going full speed all day long and into the evening so the need for something to help them fall asleep is unlikely. In addition, by law we must follow the dosage directions on all medicines (including melatonin) so we will need a doctor's note with exact dosing to administer this medication since it is not without side effects and complications.
Read About Melatonin in Kids Here
When do I get my child's meds back?
On closing day, you can pick up your meds from the infirmary table when you check your camper out. Please don't forget to stop by and PLEASE bring your photo ID so we can verify we are giving the meds back to the right person.
List of stocked medications at Camp Fern Legacy Infirmary
Allergy / Antihistamines / Sinus / Cold and Cough
Benadryl (liquid, tablets, topical)
Chloraseptic Throat Spray
Claritin (liquid and tablets)
Cough Drops
Pepcid (H2 blocker)
Phenylephrine Tabs
Robitussin / Robitussin DM
Saline Nasal Spray
Sore Throat Lozenges
Eye Drops
Allergy Eye Drops
Artificial Tears
Eye Wash
Pain Reliever / Fever Reducer / Analgesics
Ibuprofen (liquid, or chewable tablets, 200 mg tabs)
Tylenol (liquid, jr. chewable tablets, 325mg and extra-strength 500mg tabs)
Stomach Relief
Anti-Nausea Liquid (Emetrol) as well as the Rx Zofran (ondansetron) when indicated and approved by a physician
Bonine (Meclizine)
Colace (stool softener)
Dramamine
Dulcolax
Immodium (liquid and tablets)
Maalox
Milk of Magnesia
MiraLAX
Mylanta
Pepcid
Pepto (children's and adult tablets)
Tums
Topical
Aloe Gel
OTC Anti-Fungal Cream and Spray as well as the Rx Loprox (ciclopirox) when prescribed by the physician
Benadryl Anti-Itch
Burn Gel
Caladryl
Hydrocortisone
Medicaine Sting Swabs
Neosporin and the Rx Bactroban (mupirocin) when prescribed by the physician
Orajel
Petroleum jelly
Solarcaine
Vaseline
What happens in case of an emergency?
We take your camper's health and safety very seriously at Camp Fern Legacy and for that reason we have all of the mandated and other appropriate emergency equipment on hand as required by state regulations and at the request of our physician staff including, but not limited to:
AED device to convert cardiac rhythm disturbances
Nebulizer
Oxygen tank
Pulse oximeter
Backboard and neck stabilizer collar
Various splints for extremities for stabilization and transport, if required.
Suture and staple kits for minor lacerations if appropriate, as well as Steri-strips and skin glue.
Instruments for removal of foreign bodies and other minor procedures by the medical staff
Crutches and canes for short term mobility assistance
Antibiotics and other prescription medications for initiation of care until your camper's prescription arrives if appropriate and again, only with the approval of our physicians in consultation with our nursing staff.
If your camper requires a prescription while at Camp, we will provide the pharmacy with your insurance information at that time. Your store account will be charged for the cost of any prescriptions. You will be notified of all such health problems and treatments.
If we can save your camper a trip to the urgent care or ER, we will make every effort to do so, but otherwise our pediatricians and nurses will be sure that they are seen in the most appropriate facility that our medical staff know and trust.
© Copyright 2023
All Rights Reserved