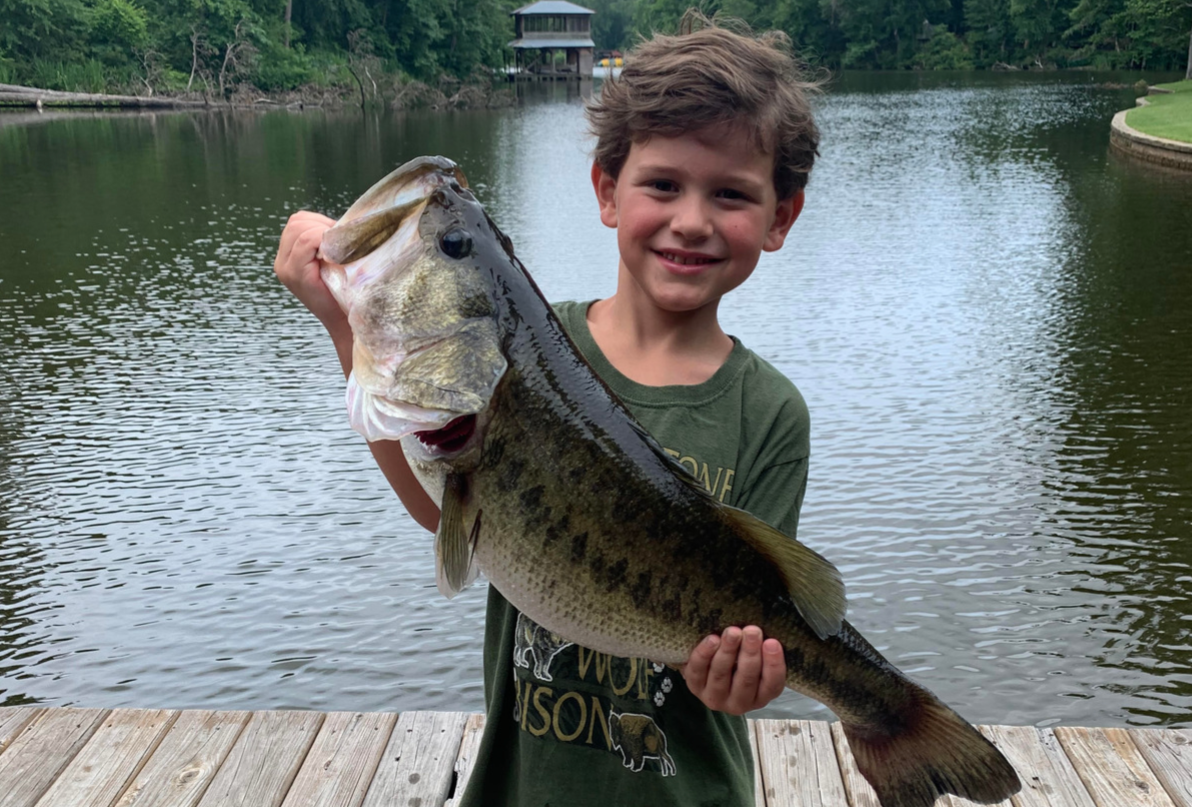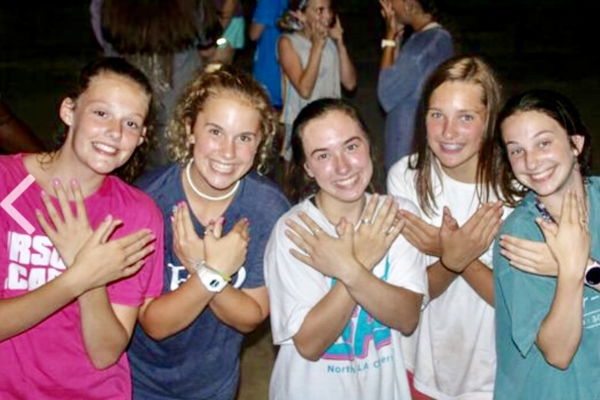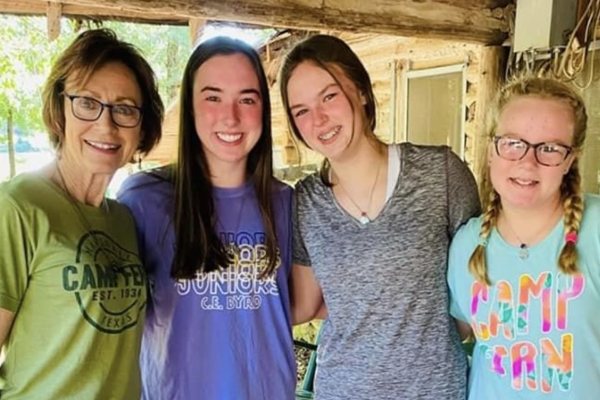 Camp Fern Legacy is a non-profit organization dedicated to ensuring the sustainable and successful operation of Camp, and to maintain its heritage and better serve future generations.
A Note From Margaret Rotzler Lee:
My grandparents, Maggie and Vernon Hilliard, founded the original Camp Fern in 1934.  I grew up there as a camper and counselor.  After graduate school and working as a speech pathologist, I returned to camp full-time in 1979.  In 1999, I became sole owner. I retired in 2019.
Now, through Camp Fern Legacy, Inc., camp is experiencing a re-make by an amazing group of energetic people who possess an intense dedication to the camping experience they knew and loved growing up at Camp Fern.  They bring to the table in this endeavor an extraordinary level of expertise and diversity of skills.  They are in it "for the long haul" as they have told me.  After all, they want their children (and hopefully grandchildren) to grow up with the same sort of camping experience that they had.
They have encouraged me to be a presence at camp when I am able, and they have asked me to continue helping with Vespers services, as they know how important it is to me personally to expose our campers and staff to God the Father, Son and Holy Spirit and His plan for our lives.
I wholeheartedly support Camp Fern Legacy, and I have great confidence in the quality of experience that it will offer campers and parents going forward.
Margaret
After the heartbreaking cancellation of Camp in May 2022, Camp Fern Legacy has now become a non-profit organization to ensure the sustainable and successful operation of Camp, maintain its heritage and better serve future generations. This change in operation allows Camp Fern Legacy to save on operating costs as well as accept donations to reinvest into facilities, focus on improving safety standards including obtaining applicable certifications, and offer unique programming. ​
An Interim Board of Directors has been established and is comprised of many former directors and long-time staff who not only have intimate knowledge of what it takes to prepare for camp but also bring a variety of business, financial, legal, consulting and marketing experiences to focus on the future.  The Board will hire the necessary full-time staff to operate Camp. ​
In addition to the organizational structure, Camp Fern Legacy will enhance many areas of facilities & programming to ensure the safe operation of camp as well as compete with families' many other summer options.  These enhancements include, but are not limited to:
​​
Responsive & open communication with families ​
Enhanced staff training with professional seminars & certifications​
Dedication to safety & seeking industry leading certifications​
Food options including farm-to-table lessons​
Meal planning with registered dietician
Reliable communication & photographs during the session
Access to reclaimed & improved tribal grounds​
An emphasis on teaching skills in activities that campers can rely on in years to come​
The active involvement of supporters and friends to help us create the most saturated experience possible​
Other Questions You May Have About 2023
Who owns Camp Fern Legacy?​
Camp Fern Legacy, Inc. is not a family-owned business. Instead, Camp Fern Legacy is a Non-Profit Organization  governed by a volunteer board of directors responsible for hiring full-time directors and establishing a variety of committees based on annual needs. ​
Who is leading this charge?​
The interim Board of Directors has hired leadership that has a proven track record of successfully running Camp as well as a deep understanding of the original Camp Fern and its traditions. Suzy Littlejohn Watts and Erica Olsen served in many roles, including as Program Directors, and we are grateful for their knowledge and expertise. Suzy is a 3rd generation Camp Fern alumnus and her children attended as 4th generation. Erica was the Director of Camp Fern from 2004-2012 and 2014-2015, running exceptionally successful summers and smooth off-season operations. Long time Camp Fern families are thrilled that we have these two extremely qualified, professional, and fun Directors to ensure the Camp Fern Legacy operations run smoothly year-round. We fully trust them to recruit passionate, qualified counselors and develop fun programming for the summer of 2023. ​​
What will the programming and activities be like?​
The safety of every camper is our first priority. Camp Fern Legacy will implement a dedication to safety & seek industry leading certifications as well as enhance counselor and staff trainings. All campers will select their daily schedule based on a core set of classes including swimming, canoeing, water skiing, ropes, tennis, crafts, nature, archery, and riflery. We will always encourage children to take as many of our traditional classes as possible, and we do hope to widen our variety of daily activities. That variety will be dependent on facilities, counselor training, and expertise.  We aim to keep the evening activities that honor the traditions of Camp, but would also like to bring some fun and exciting new evening activities to balance our calendar.​
Will you continue to use tribes?​
This is a difficult subject that requires the balancing of Camp Fern's Legacy and heritage with the realities of today. We aim to develop the character of future leaders. Tribal competition is deeply rooted in the tradition of Camp. Many years ago, the Blackfoot Native American Tribe blessed Camp Fern's inclusion of tribes in the programming. We will continue to have tribes and tribal activities, and hope to integrate Native American education into our nature classes and continue to work with the Blackfoot Tribe and other local Tribes to ensure teachings, ceremonies and traditions remain respectful & will honor their culture. ​
What is the plan for Nola 2022?​
We've invited known Nola candidates from 2022 and those eligible for 2023 to join us at Camp Fern Legacy this summer. We feel it important to offer the opportunity for both groups to finish out their camper years on our campgrounds.
What is the plan for Leaders in Training/Counselor Aide's 2022?​
We will not have CA's in 2023, and will do special training sessions for the new counselors who missed their 2022 training year. In 2024 we will be caught up and will have CA's again.​
​
Will we all get to eat together again?​
We believe the experience of dining together is a memorable and fun piece of Camp. No doubt many memories surround the singing at meals, the conversations at the table and the liveliness experienced when all of camp is together.  The plan is to bring everyone back together in the dining hall for all meals as long as space and situation permits. We have plans to renovate the dining hall and are making this a priority for future summers. 1046 Camp Road
Marshall, Texas 75672
(903) 742-4321
[email protected]
© Copyright 2022 All Rights Reserved